There are basically two manufacturers of synthetic timpani head; Remo and Evans. Both companies produce fine products that will fit any timpani out there because they come in all sizes. Determining what size head you need is the most important step and there are a couple of resources that will ensure you buy the right heads for your drums.
If you're lucky enough that the size label is still attached to your timpani head then you can simply order the exact same model from the company, but often times this isn't possible. The two main timpani head manufacturers, Remo and Evans have useful charts that tell you what size you need for many different sizes and brands of drums.
If for some reason you don't see your drum on the chart and you can't locate the label then you must use a tape measure to see the measurement of the inside of the counter hoop.
Here is a useful guide that will help you if you need to measure your timpani for correct head choice.
Timpani Head Size Guide
When purchasing a replacement head for your 23″ timpano, singular for timpani, logic would indicate you need a 23″ head, right? Timpani, unlike a Snare Drum or Concert Tom, use a different method to determine the size head that is needed for any particular drum. Timpani heads actually extend beyond the edge of the bowl, thus needing a larger diameter head than the actual size of the drum itself.
According to Steve Weiss Music, the crucial piece of information needed to determine the proper head needed is how far the head extends beyond the bowl. Please check the Evans Timpani Head Chart (click for PDF) or the Remo Timpani Head Chart (click for PDF) first to see if your timpani model is included.
If there appears to be little to no space between the lip of the bowl (also known as the bearing edge) and the counter hoop ( or rim), then you have what is commonly referred to as a drum with a regular collar (See diagram 1). These drums are generally made before 1978 and include older Ludwig, Slingerland or Leedy drums. Determining the actual size of the drum itself can be tricky. Before 1978, manufacturers such as Ludwig made drums in many different sizes. (i.e. 20″, 23″, 25″, 26″, 27″, 28″, 29″, 30″) A good rule of thumb for pre-1978 drums is to add 1″ to the drum size to obtain the actual head size that is needed. The exception is for older 23″ drums. These drums need a 24 1/4″ head.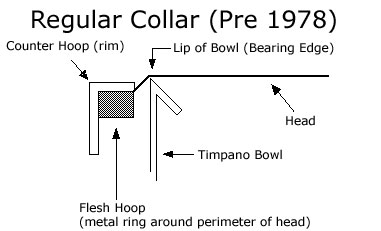 If your drums were made after 1978, manufacturers began to standardize sizes and your method of determining correct head sizes is much easier. You will notice that there appears to be a 1″-2″ space between the lip of the bowl and the counter hoop (See diagram 2). This is what is commonly referred to as an extended collar. This means you will add 2″ on to the size of the drums. After 1978 the manufacturers standardized most of their drum sizes to 20″, 23″, 26″, 29″, and 32″. This means you will buy heads that are 22″, 25″, 28″, 31″, and 34″ respectively. The exceptions to this rule are the top of the line drums such as Adams Philharmonic, Walter Lights or the Yamaha 9000 series drums. While Premier drums are also exceptions to the rule, in general, post 1978 Ludwig, Yamaha, or Adams, the 2″ rule will apply.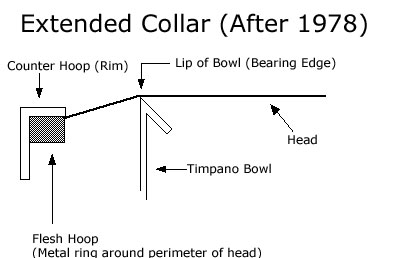 In the end, the best way to determine the correct size head you need is to take the head off the drum and measure the outside diameter of the head. Outside diameter means from one side of the metal ring to the other. You will hear all sorts of tricks that allow you to find the head size without taking the head off of the drum. The most common being measure across the top of the drum and subtract 1/2″. Due to the fact that sometimes it works and sometimes it doesn't, we do not recommend this method for purchasing the correct head needed.
Once you have purchased the correct heads for your drums, write the model number and size on each head with a permanent marker (just big enough to see but not so big that parents see it from the back row of the Auditorium) so next time you need timpani heads for that set of drums, the process of ordering will be effortless.
Download the full Evans Timpani Head Chart as a PDF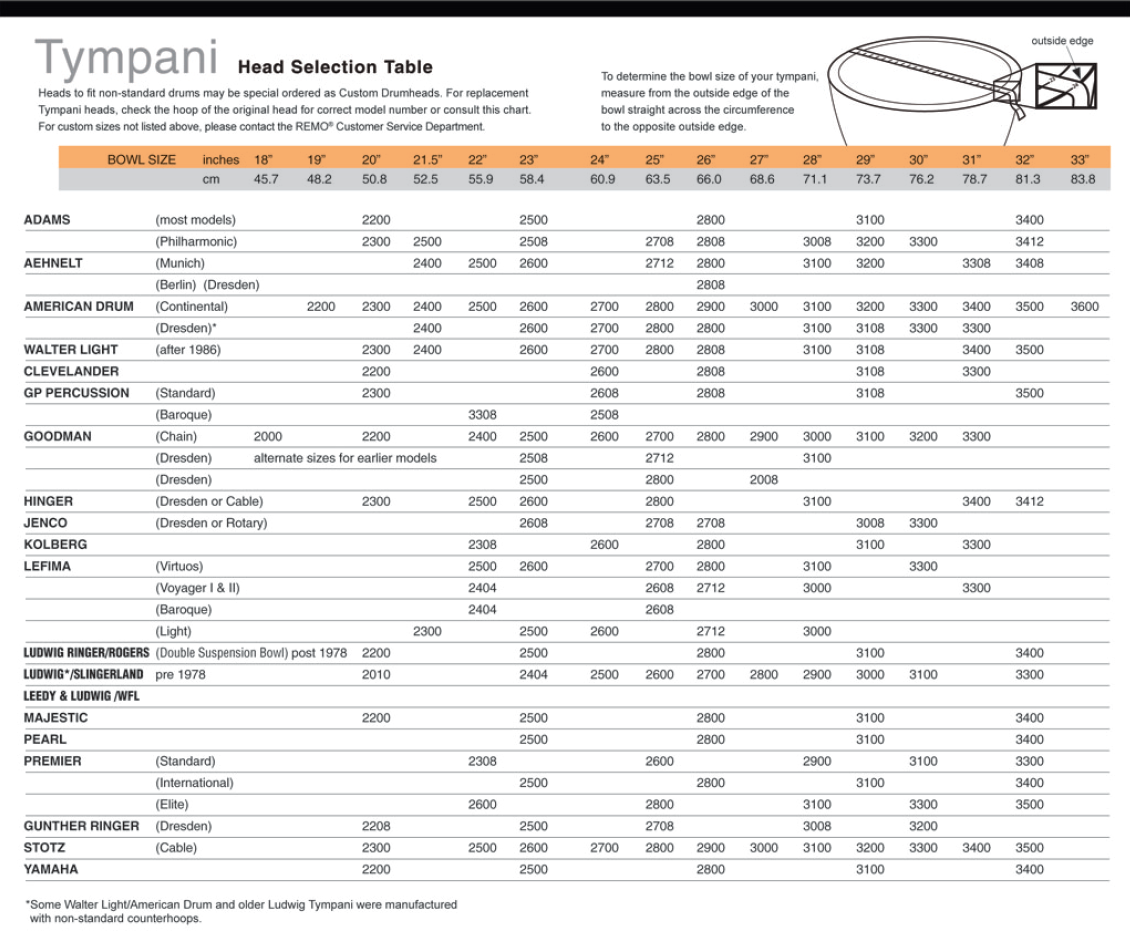 Download the full Remo Timpani Head Chart as a PDF
Technology on your iPhone can help you find the right timpani head
There is a great iPhone app available for free at the App Store called TimpHeads. You simply choose the drum that you want the head for from the listing on the app and it will tell you what size of head will fit. It even provides a few phone numbers of online retailers who will be glad to take your order for Remo and Evans products.
What Timpani head should you pick?
Picking the size of the head is one thing, but then you need to decide between different models of head. There are two main classifications of synthetic head; treated and untreated. The treated heads like the Remo Renaissance and the Evans Strata series are meant to simulate the texture of real calf skin and to have similar acoustic properties of real skin heads. The sound that they produce is considered to be darker in quality with fewer overtones than the untreated and preferred by many timpanists who are looking for a warm tone with less ring. The untreated heads tend to produce a brighter tone, and are very clear sounding and they are preferred by timpani players who are looking for a very bright sound with more overtones. The treated heads are a little more expensive so if you're on a tight budget you might want to take that into consideration, too.
I personally like the Remo Renaissance timpani heads best of all. The Renaissance treatment has a nice feel to it both to the touch and with my mallets and I've always had good results when it comes to mounting and tuning the heads. The Evans coated or treated heads called Strata sound very good and feel great, but my experience with them is that they have durability issues.
I shared my thoughts with the Remo corporation about their different timpani heads and I was pleased to receive this response;
Remo Renaissance® timpani heads are not "coated" in the traditional sense. Rather, Renaissance® is a patented treatment which involves disturbing the surface of the polyester film and then impregnating the resulting surface imperfections with a proprietary epoxy resin. The Renaissance® "treatment" is employed to minimize overtones, thus, more closely resembling the fundamental focus of animal skin. The disruption of the film surface tension also affects the mallet response when the head is struck. The sound differences, achieved through treating the head with the Renaissance® process, are clearly evident when viewing the 3D Wave Frequency Analysis of the respective films.
There are significant physical differences between Clear and Hazy film, which are each unique chemical polymers. Clear film sustains longer and projects farther than Hazy film, while Hazy film is slightly stronger and has a brighter fundamental with a more focused tone.
The three types of Remo insert rings also affect the sustain, definition and projection of the timpani.
When combined with the Renaissance® treatment, each type of film produces distinct tonal qualities which are often best perceived from a distance, rather than from the player's perspective directly above and behind the instrument. This explains why leading timpani manufacturers choose different combinations of Remo timpani heads for their respective instruments. Yamaha chooses Remo Clear Renaissance® with aluminum insert rings. Adams chooses Hazy Renaissance® with aluminum insert rings, and Ludwig offer Hazy Renaissance® with high steel insert rings as an option of their timpani. These choices were determined in recording studios and concert halls based exclusively on their sound, not their aesthetics.
I have always liked the Remo Renaissance heads, but never really understood the intended differences between all of the products that they offer. I appreciated hearing from Bruce Jacoby, Education Manager, Remo Inc. who provided this valuable information which I will utilize when shopping for new heads for my drums.
What about calf skin?
There is another choice when it comes to timpani head choice and that is authentic calf skin. Of course many years ago synthetic timpani heads didn't exist so you had to use genuine calf. The problem with calf is that the skin is very temperamental and susceptible to changes in the humidity and temperature. Unless your drums are to remain in one climate controlled place all the time the problems that you will face make the use of calf skins impractical. Also, your drums must have a fine tuning mechanism and be of a Dresden design with locking pedals. Balanced action timpani that do not have pedal locks really can't be used with calf skin or goat skin heads very well if at all. There are many major symphony orchestra timpanists who have gone back to using calf on their drums, but their timpani are always in the same place and they are Dresden type drums with locking pedals. The other factor is that calf skin timpani heads are very expensive. They are about 10 times the cost of synthetic heads and they don't last as long. So, if you have the financial means to spend $3000-4000 on timpani heads and you can leave your drums in one place pretty much all the time then calf is the way to go, but for most players calf heads are just too impractical and expensive.
Some Players use Goat Skins
Goat skin timpani heads are popular among certain European timpanists, and while their use is representative of a storied tradition the use of goat for timpani playing is limited among players.
What's the most common Timpani Head choice out there?
In a recent Facebook poll 186 timpanists expressed their preferences concerning what timpani heads they preferred to play upon. It's important to note that among those polled were players with a variety of backgrounds from all over North America, Europe and Asia. There were timpanists with major symphony orchestras, freelance players and students who participated in the poll and of the 186 responders to the poll 135 of them use synthetic timpani heads made by either Remo or Evans with 44 players using calf skin heads and 7 players using goat skins for their timpani.
Of the synthetic heads available on the market the Remo Renaissance products were the most popular with preferences for the Hazy Renaissance heads (72 players) over the Clear Renaissance skins (24 players use these). Evans timpani heads weren't as popular with only 16 respondents using them. There are a few more models and brands that need to be mentioned and of the 186 timpanists who responded to the poll 7 timpanists use either Remo Custom, Remo Custom Hazy as well as Remo Custom and Remo Clear. One timpanist from Asia uses timpani heads from Asapura.
We Took a Facebook Poll:
What Timpani Heads Do Percussionists Like the Most?
| | |
| --- | --- |
| Remo Renaissance Hazy | 72 |
| Calf | 44 |
| Remo Renaissance Clear | 24 |
| Evans Orchestral | 16 |
| Evans Strata | 10 |
| Goat | 7 |
| Remo Custom Hazy | 4 |
| Ludwig Clear | 5 |
| Remo Custom Clear | 1 |
| Remo Clear | 1 |
| Remo Hazy | 1 |
Poll taken between September 28 and November 4, 2014 on Timpani Shop Talk which is a private Facebook group with 2405 total members.
It's clear that the large majority of players use synthetic heads for their drums and it's important to understand that of the 44 players who use calf skin timpani heads most of those timpanists are with major symphony orchestras who purchase the timpani heads for the player.