Before you do any physical activity you should always do a warm up and since timpani playing is a physical activity you should always warm up before you play.
Playing timpani is not just about moving your hands and wrists. It's also about producing the best sound that you can and warming up properly will make sure you can play in a relaxed and controlled manner with a great sound.
Here is an Easy Warm Up Exercise
This warm up will get your hands moving and will help you to develop a nice sounding roll.

Start slowly and then build up your speed but only go as fast as you can go while staying relaxed. At the first sign of tension anywhere in your hands, wrists or arms you should drop the tempo back a bit
Play with good high strokes and make sure that both of your hands sound the same
Play with a pretty loud or forte dynamic, but you should also warm up playing very quietly and extremely loud too, because your need to have a slightly different technique to do those things.
Watch me play this warm up timpani exercise in the video
Intermediate Timpani Roll Exercise
In this exercise you are starting and stopping rolls on one drum and also moving from one drum to another.
Each two bar segment should be played a few times and use the different sticking combinations that are written below the notes. Start right, end right; start right, end left; start left, end left; start left end right.
The fourth line is working your legato rolls, or moving from drum to drum smoothly.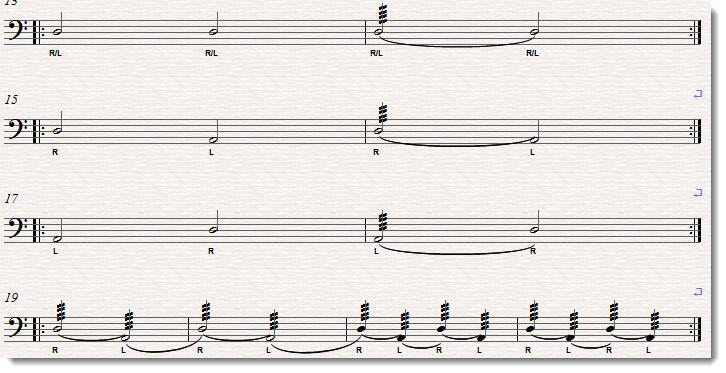 Play each line several times before moving on to the next line
Make the roll sound just as good as if you weren't playing any rolls at all
Don't rush through this exercise. Take your time and try to improve each time you practice it
Here I am playing this intermediate timpani roll warm up exercise
Now for a More Advanced Timpani Warm Up Exercise
This exercise is pretty tricky and not just tricky to play fast. It is often more difficult to play slowly because you have to time your rolls differently at slow tempos and fast tempos.
You really work your ability to start a roll with one hand and end on the other by doing this and it makes a great warm up exercise once you've learned it.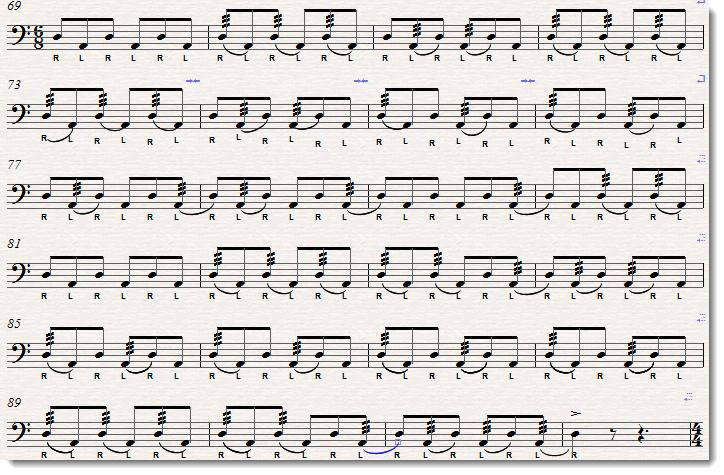 At first don't worry about playing with a metronome, but after you learn the patterns you should play this at a variety strict tempi
It's tricky to play this fast and it's just as tricky to play it slow
This is a great warm up exercise that really works your technique too
Watch me play this advanced timpani roll warm up exercise